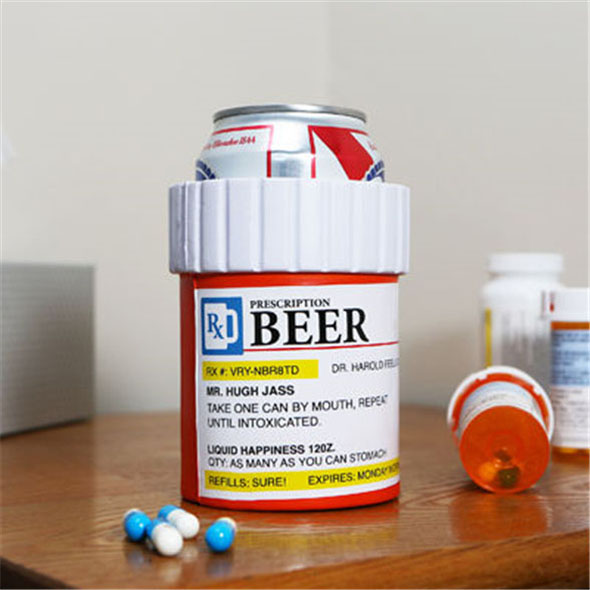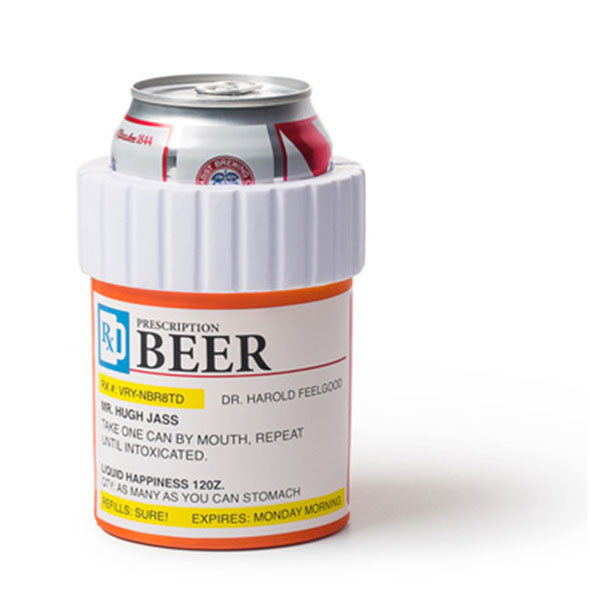 Prescription Style Beer Cooler
"I'm only drinking for medical reasons!"
This brilliant
beer koozie
comes with an authentic-looking prescription label that will fool everyone. Oh, and it will keep your beer nice and cool in the meantime!
Key Features:
Prescribed by 'legitimate' medical practitioner Dr. Harold Feelgood

The perfect excuse for your tragic alcohol dependency

Keeps your drink cooler for longer
The prescription label reads as follows:
PRESCRIPTION BEER
RX #: VRY-NBR8TD // DR. HAROLD FEELGOOD
MR. HUGH JASS
TAKE ONE CAN BY MOUTH, REPEAT UNTIL INTOXICATED.
LIQUID HAPPINESS 12OZ.
QTY: AS MANY AS YOU CAN STOMACH
REFILLS: SURE! // EXPIRES: MONDAY MORNING
Product Description
Picture this: you're living it up at your best mate's birthday party, having a little dance, helping yourself to the crisps, and you think:
"Hey, maybe I'll crack open a beer!"
And so you crack open a beer, because you're a responsible adult and you're independent enough to make your own decisions. Several beers later, you find yourself reaching for the crate yet again, only to hear one of your fellow partygoers chime in:
"Haven't you had enough?"
You swivel around, steadying yourself on a nearby lamp. "How dare you suggest that I'm some kind of pitiable alcoholic?!" you bellow at your friend, pointing in roughly the direction of their face. "This beer was prescribed to me by a doctor!"
This is where you gesture towards your Prescription Beer Cooler, into which you've just placed another can of the good stuff. Your concerned friend scans the label, sees...
The official-looking RX number
The name of a respected medical professional
Proper instructions regarding usage and quantity
Your name ('Hugh Jass') on the label
A stern warning label, referring to various side effects
...and apolgises profusely, leaving you to enjoy the party.
"Brilliant," you think, taking a sip. "And my beer is nice and cool, too!"
WARNING: YOU CAN HAVE TOO MUCH MEDICINE!
Side effects may include:
Aggression
Irrational behaviour
Uncontrollable attraction to unattractive people ('beer goggles')
Uncontrollable attraction to dodgy kebabs
Vomiting
Loss of spatial awareness
Strong opinions on topics in which you previously had no interest
Severe headaches the following morning
Always drink responsibly, and keep away from children!