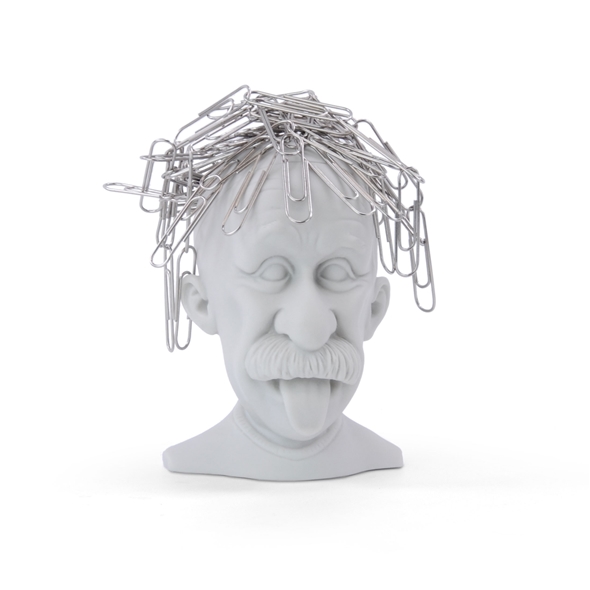 Genius Paperclip Holder
Tidy your desk and sharpen your hairstyling skills!
Is your desk littered with unused paperclips? Don't throw them away - you just
know
that you'll find a use for them as soon as they're in the bin. No, what
you
need is a effective means of tidying those things the heck up.
And that's exactly what we have here. The
Genius
is a magnetic paperclip holder that turns your stray paperclips into something fun, namely a funky hairdo for a famous scientist. More paperclips equals more fun!
Key Features:
Magnetic bust of Albert Einstein (or someone rather similar)

Use your paperclips to give him some hair!

A fun way to de-clutter your desk
Product Description
Paperclips have never been so much fun! The bald head of this Albert Einstein paperclip holder makes a fantastic place to keep your spare 'clips - the great man's magnetic scalp will hold them in place very nicely, allowing you to give him a snazzy new hairdo!
'Genius' Magnetic Paperclip Holder - Specifications:
Measures 96mm x 69mm x 78mm
Weight: 74g
Made of plastic with a built-in magnet
Holds as many paperclips as you can fit on his head!
Now, here are some of our favourite Albert Einstein quotes...
"Everybody is a genius. But if you judge a fish by its ability to climb a tree, it will live its whole life believing that it is stupid."

"Imagination is more important than knowledge."

"If you can't explain it simply, you don't understand it well enough."

"Reality is merely an illusion, albeit a very persistent one."

"I never said half the crap people said I did."