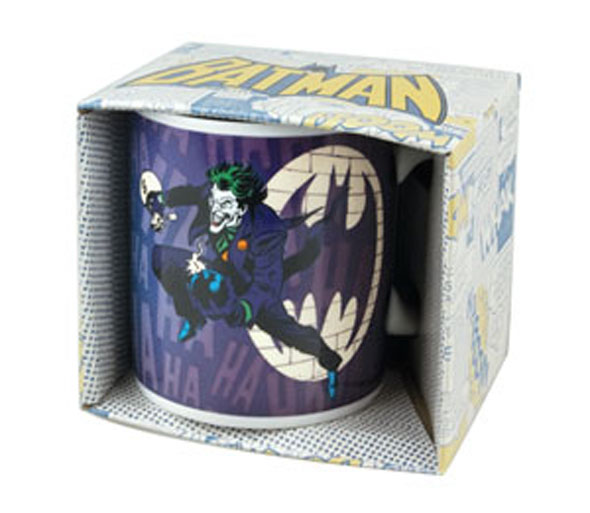 Batman 'The Joker' Boxed Mug
It's hard not to like 'The Joker', and he is easily Batman's most iconic villain. This The Joker mug beautifully displays retro comic style animation of the menacing character, and even comes in its own box. For any comic or superhero fans, Batman mugs make perfect gifts! Not only are they packed with personality, but mugs are seriously handy, and can be used every day! Stop fretting over gift ideas and consider this awesome superhero villain mug - you may have an ace idea already, but sometimes it pays to play the joker!
Key Features:
Official Batman Merchandise

The Joker character mug

Fantastic mug and box set

Perfect stocking filler or gift idea
Product Description
You're not supposed to love a villain are you? We didn't think so - that was until we saw Heath Ledger as The Joker in Batman: The Dark Knight and we couldn't quite believe how incredible this super-villain was on our big screens!
You can't argue with the fact Mr Ledger makes that film what it is, and that's why he is a favourite Batman character of many! So much so, in fact, that our The Joker products have been in extremely high demand here at Gadget Inspector - especially this fantastic mug set!
This incredible Boxed Mug is a cool depiction of the evil villain himself and the artwork is truly impeccable. Only a real Batman or comic book fan could appreciate quite how special this mug is, which is why it is such a perfect, personal gift idea for those who love the extensive Batman cast and characters!
The mug comes in a fantastically cool Batman box emblazoned with creative and funky comic book scenes and the obligatory original Batman logo.
When it comes to Batman gifts, this 'The Joker' boxed mug is one of the best! Add to stockings for a fantastic geeky comic Christmas gift idea.
Leave a Review >
Customer Reviews
Laura, burnley
12/12/2014 None.